Totton Festival of Drama 2021
Overall Winner (Archie Gay Trophy)
Studio Theatre, Ashley Road with Afterplay by Brian Friel
Runner-Up (The Cullen Cup)
SUP Theatre Company with Stitched Up by Robin Johnson
Other 2021 Trophy Winners
| | |
| --- | --- |
| Best Youth Production (The Trant Trophy) | Starcast with All By Myself by Robert Scott |
| Best Direction (Chairman's Shield) | Lesley Bates for Studio Theatre's production of Afterplay by Brian Friel |
| Best Adult Actor (TDF Cup) | Paul Jones for his portrayal of Victor Frankenstein in SUP Theatre Company's production of Stitched Up |
| Best Adult Actress (TDF Cup) | Rachel Fletcher in Studio Theatre's production of Afterplay by Brian Friel |
| Best Supporting Adult Player (The Cullen Cup) | Eric Petterson for playing The Professor in SUP Theatre Company's production of Stitched Up |
| Best Youth Actor (The Harris Trophy) | Euan McIntyre for his portrayal of Larry in Starcast Drama Company's production of All By Myself by Robert Scott |
| Best Youth Actress (The Harris Trophy) | Betty Blyth in Starcast Drama Company's production of Girls Like That |
| Best Supporting Youth Player (The Hibbert Trophy) | Thea Milner Smith in Starcast Drama Company's production of Girls Like That by Evan Placey |
| Technical Achievement (The Arthur Whittaker Award) | Studio Theatre, Ashley Road with Afterplay by Brian Friel |
| Adjudicator's Award (The Harding Shield) | The Totton Festival of Drama team |
| Best Original Script | Paul King for Invasion of the Body Snatchers (Bench Theatre) |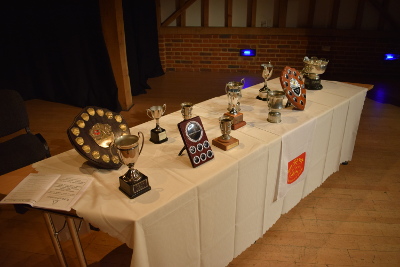 What If? by Peter Yates
A woman contemplating suicide is being observed by an Angel and Devil, they discuss her situation.

This play contains themes that some might find upsetting

Afterplay by Brian Friel
Some twenty years after their stories were originally carried out on stage,
Brian Friel's play engineers a chance meeting in a Moscow café between Andrey Prozorov,
brother of Chekhov's Three Sisters, and Uncle Vanya's niece Sonya. Fuelled by Karkov vodka,
their conversation turns to Puccini, trees and little fictions.

More than I was to You by Peter Yates
A mother and daughter have to rely on food banks whilst their estranged husband/father gambles away any money.
When he pleads with them he has changed his ways, will they agree to let him come back home?

Heavy Weather by Lizzie Nunnery
Mona is a young woman on the edge.
All she sees is the Earth falling apart, but no one really seems to care.
Amidst the chaos of competing and contradictory voices, she sets off on a kaleidoscopic journey to find solutions for the planet –
and the truth about her family – in the hope that everything might start to make sense again.

All By Myself by Robert Scott
Seven years alone on an island after his shipwreck have driven Larry to the edge of sanity,
but that's nothing compared to the shock of discovering he's not - and never has been - alone!

Day 3: Wednesday 16th June
Invasion of the Body Snatchers by Paul King
Ray is very angry, and Simon is on the receiving end of his anger ... but what has he done?

Stitched Up by Robin Johnson
"It's alive!" Frankenstein created a monster, the monster escaped and... then what?
There have been so many versions of the story, even the original characters don't know what's real any more.
Stitched Up is a darkly comic and often madcap dissection of Mary Shelley's masterpiece.

Day 4: Thursday 17th June
The Sentinels by Matthew Lopez
No-one forgets the moment they heard the news.
September 11th 2001 sent shockwaves around the globe.
It was a day that changed the World forever, not least for Alice, Kelly and Christa,
who meet every year at a coffee shop a block away from the World Trade Center site, presided over by a sympathetic waitress

Girls Like That by Evan Placey
When a naked photograph of Scarlett goes viral, she becomes the centre of attention for all the wrong reasons.
But while rumours run wild and everyone forms an opinion, Scarlett just stays silent...
Contains themes not suitable for under 14s

---
Our 2021 Adjudicator: Alan Hayes (GODA)
We were proud to welcome Alan Hayes (GODA) to the Totton Festival for 2021.
Alan had directed over 100 stage performances and had recently retired from examining duties as Principal Moderator and formerly Principal Examiner with a nationally recognised Examination board.
He had previously adjudicated several one act play festivals, including AETF Quarter Finals in Dorset and Leicester.
This was his first visit to the Totton Festival of Drama.

---
Rounds of the national competition
All England Theatre Festival Round 1
Totton Festival of Drama
Monday 14th June — Thursday 17th June 2021 at Hanger Farm Totton
All England Theatre Festival Round 2
Western Area Semi Final
Saturday 17th July 2021 at Merlin Theatre Frome
All England Theatre Festival Round 3
English Final
Saturday 7th August 2021 at Brid Spa Theatre